Posted by
admin
in
Trust News
Brian Mertens, the Trust board member with responsibility for the new office at the Cardiff City Stadium is pictured right with fellow Trust member, Clive Prigg.
The Trust office opens from around 90 minutes before kick-off until 15 minutes before matches start.
At the office you can sign up for the Trust from just £12 a year, with children under-16 free, buy T-shirts, miniatures and pin badges in aid of the Fred Keenor Statue Appeal. And from the Crystal Palace game we'll be selling old  programmes donated to the appeal. The Trust office is near Gate 5 (Canton and Ninian Stands).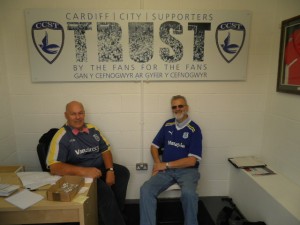 Comments Off on CALL IN AT THE TRUST OFFICE